World Soccer League, Football Fans' Choice Of Game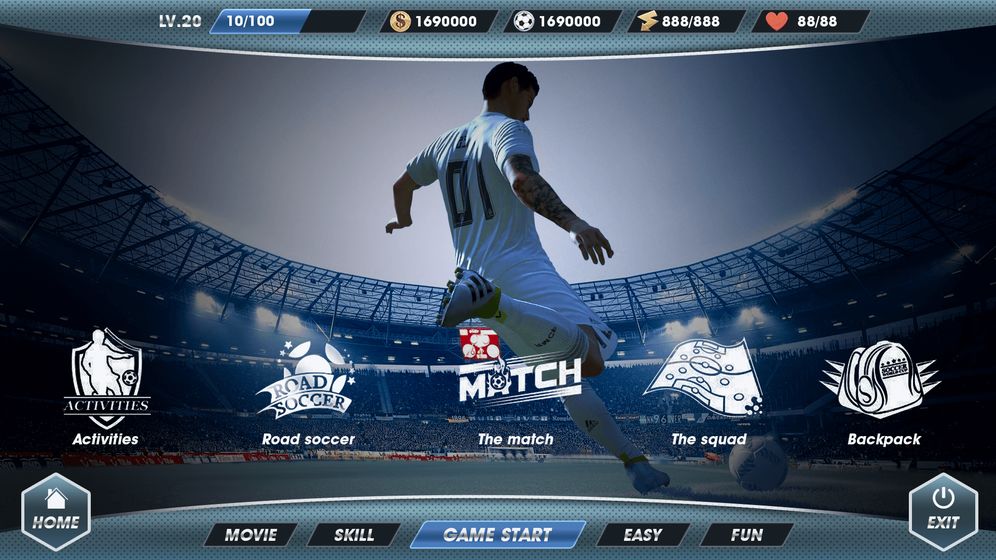 Looking for a soccer-themed game that is suitable for Android phones? The World Soccer League is the answer. This game is the best Android soccer game that can be downloaded starting from Android series 4 or Android Ice Cream Sandwich.
Yes, you don't have to bother looking for a soccer game that can be used for a simple Android. Moreover, other games require the latest OS on the gadget. Interestingly, this game does not consume a large enough memory on a cellphone or tablet, just 45 MB, you know!
The game, which was released by Mobirix from South Korea as the game developer, has been successfully downloaded by more than 1,500,000 people worldwide.
Currently, the rating of this game has reached 4.2 stars. That is, this game is recommended to be played. Only a few people give two and one stars for this game.
Play World Level Soccer
World Soccer League, as the name suggests, this game has given suggestions to the user to download and play it. When interpreted literally, this game is a world-class soccer league in cyberspace. This game has been downloaded numerically by 1,641,851 total Android users from all over the world.
With a rating of 4.2 stars, this game is able to become an attraction for football enthusiasts around the world. In general, the appearance of this game is simpler than other games. This can be seen from the graphics which are still rough and not too 3D like other games.
Yes, the simple graphics used do adjust the Android OS on the gadget that downloads it. If the graphics are made very 3D like the original, it will result in the amount of memory needed and the Android OS must be more than Android Oreo. If this is done, it will be fatal for the users of this game, the majority of whom are chosen by users with the Android Ice Cream Sandwich OS gadget.
4 Game Modes
The specialty of this World Soccer League game is that there are many different game modes to choose from. Yes, this game has provided 4 game modes to choose from. The 4 game modes are Exhibition, Cup, League, and Training.
Each of these modes will be explained briefly, concisely and clearly. The first is the exhibition mode, this mode is used for sparring without fighting for certain titles or trophies. This game mode is more PvP or Player versus Player matches.
The next game mode is the Cup game mode. In this second game mode, the user who is better known as the player will participate in a match to get a trophy. This win will give players coins and stamina bonuses.
Next, the League game mode is the most frequently chosen because it is a competition arena for playing soccer in cyberspace. Users will be met with other players from all over the world who choose this mode. Yes, this league game mode is made like a football league in the real world.
The last game mode is training mode. In this training mode, the player will fight against the AI ​​Computer. This means that this mode is intended as a club training arena with AI robots in the game. Usually, users use this mode to train themselves before joining the game in cup and league modes.
Create a Dream Team
World Soccer League as a football game that has more than 60 national teams. Then, this game also has 60 soccer clubs from around the world with a total of 2000 soccer players who can become the user's dream team.
Read also: Best Football Game on Android, Football Strike
However, this game does not yet have a license so the graphics for each player are almost the same and not exactly the same as football players and clubs in the real world. The most interesting thing is that this combination of players is obtained according to the level of the user. The higher the user level, the user will be able to choose players with high skills.
Through this game, users will experience the experience of being both a player and coach of a football club. Because in this game you have to choose the right players with the chosen strategy. Furthermore, as a player feels like playing PlayStation. When the match starts, the user can select the shoot, pecila, long pass, and short pass buttons to direct the ball to other players.
Capture In-Game Victory Moments
Uniquely, this game has a feature to capture moments in soccer games during matches. Users can capture and save game images. In addition, this game also provides access to record ongoing matches. So, World Soccer League users can review, react, and evaluate through the saved videos.
Many of the gamers who take advantage of this feature to provide reviews and tips in playing World Soccer League. How come? Currently, there are many gamers who become Youtubers to provide reviews, information, and tips to win games both online and offline. So, many also choose this game for review because the users are also not less.
Free Download on Google PlayStore
This game can be downloaded for free at no charge on the Google PlayStore application. Yes, this game is a game devoted to Android with the sports genre. Because this game is a game that is downloaded for free, it is certain that this game contains ads that will appear at the time of loading and at the end of the game.
This game also offers paid items that support the user's club to become the best club. Payment for these items can be made via credit, e-wallet, and Google Pay. The price of each item is around IDR 25,000 to IDR 75,000 including tax.
Can Be Played From 7 Years Old
This game can be played by children aged pre-teen i.e. more than 7 years. Because this game has passed the content rating assessment from the International Age Rating Coalition. Then, considering that the Mobiri game developer is from South Korea, of course the World Soccer League has passed the assessment test and received approval from the South Korean Game Rating Administration Committee.
It is not recommended for children under the age of 7 to play this game. Because this game contains light violence graphics such as ball struggles such as hard sliding and tackling. It is feared that children under 7 years old can imitate it.
Available in Multiple Languages
The World Soccer League has become one of the world-class games. It is evident from this game has provided more than 60 languages ​​for its users from all over the world. There are various language choices, namely English, Mandarin, German, Korean, to Indonesian. This is the advantage of this game because it can be played by many people from all over the world.
Well, it's interesting to try this World Soccer League. Immediately download this game application via Google PlayStore. Experience playing soccer online with rivals from all over the world.
Read also: PES 2020 as the Best Android Football Game